November 27, 2018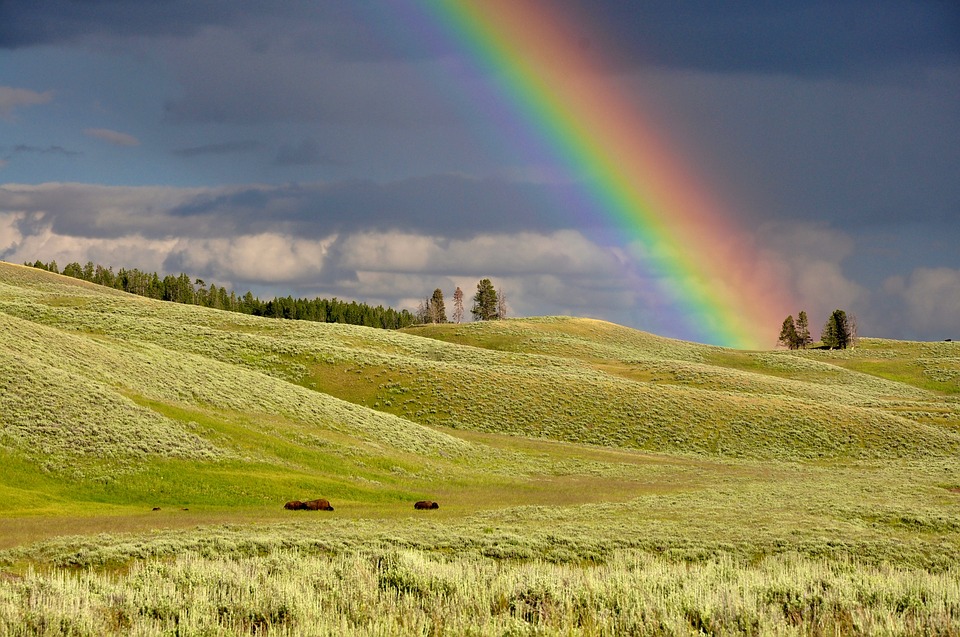 "When the bow is in the clouds, I will see it and remember the everlasting covenant between God and every living creature of all flesh that is on the earth." God said to Noah, "This is the sign of the covenant that I have established between me and all flesh that is on the earth."" (Genesis 9:16–17, ESV)
When the bow is in the clouds, I will see it and remember the everlasting covenant.Often, when God has been gracious and spared our lives, there is a lesson to learn and, or, a practice to begin. In the case of Noah and the flood, one of the lessons Noah was to learn was "tacked up" by God conveniently so that even God wouldn't forget.
Isn't it amazing that God uses "sticky notes" to remember things that are important! God's sticky note here, of course, is the rainbow. It is a constant scientific reality that happens when light is refracted through water. In fact, we can produce the phenomenon all by ourselves with a water hose on a sunny day.
And whenever we do, the lesson God wants us to remember is this: "This is the sign of the covenant that I have established between me and all flesh that is on the earth."And what is that covenant between God and humanity?"The waters shall never again become a flood to destroy all flesh." (Genesis 9:15, ESV)
God's lesson still remains. The rainbow signifies that even if the earth grows as corrupt as it did in Noah's day, God won't destroy it with a flood. He will restrain Himself, even when He may want to. Of course, God has those days from time to time, as the wilderness wanderings teach us. (Check out Exodus through Deuteronomy.)
Sin frustrates God. And, when His people persist in it, God has in the past removed them from this existence (See Numbers 14 as an example). But now, we can thank God that one of the tools in His toolbox remains "under lock and key" so to speak. "The waters shall never again become a flood to destroy all flesh." (Genesis 9:15, ESV)
Today is a good day to thank God for His mercy and grace through Jesus Christ. "Since, therefore, we have now been justified by his blood, much more shall we be saved by him from the wrath of God." (Romans 5:9, ESV) Depend on the heart of God to remember His covenant!
Turn-Around Tuesdays are designed to bring hope and help, insight and encouragement to those of us who are simply overwhelmed by the flood of problems life throws at us. No one is immune to trials and troubles, but God has a way of lifting us from life's torrents. Each short thought is written by Dr. Matthew Lee Smith, Executive Director of Eagles In Leadership, and comes from his life-journey with the God who never leaves us or forsakes us. He welcomes your comments below.