May 31, 2012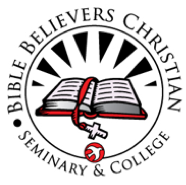 Eagles In Leadership and Bible Believers Christian College and Seminary Are Announcing …
Fall Registration!
2012 – 2013
BBCCS offers the following …
Associate of Biblical Studies Degree

Registration Is Now Open
For The Fall Semester to be Offered at:
Bible Believers Christian College and Seminary
4081 W. El Segundo Blvd.
Hawthorne, CA 90250
Contact: Dr. Steven Davis, Dean Phone: 323.779-2222
Biblical Training for Today's Urban Christian Leader
These degrees are designed for the serious Bible student:
Pastors, Ministers, Evangelists, Teachers, Deacons, Deaconnesses, Chaplains, Missionaries, etc.
Semester Begins: August 27th, 2012!
Registration: At an affordable cost:
Associate of Biblical Studies = $1,000; Bachelor Degree = $3,200
Master Degree = $3,800; Doctorate Degree = $4,800
*** Payment Plan Available ***
For more information: Bible Believers Christian College and Seminary