August 14, 2012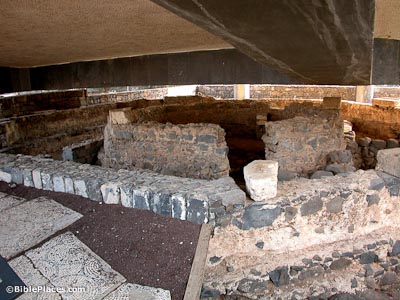 "When Jesus went into Peter's house, He saw his mother-in-law lying in bed with a fever. So He touched her hand, and the fever left her. Then she got up and began to serve Him. When evening came, they brought to Him many who were demon-possessed. He drove out the spirits with a word and healed all who were sick, so that what was spoken through the prophet Isaiah might be fulfilled: He Himself took our weaknesses and carried our diseases." (Matthew 8:14–17, HCSB)
Look into the Apostle Peter's house! See where the miracle of healing his mother-in-law took place. Imagine the conversations of Jesus and Peter in this place. Listen as we read these words in their original setting.
In existence from the 2nd c. B.C. to the 7th c. A.D., Capernaum was built along the edge of the Sea of Galilee and had up to 1500 residents.
Jesus made Capernaum his home during the years of his ministry: "Leaving Nazareth he went and lived in Capernaum" (Matt 4:13).
Peter, Andrew, James and John were fishermen living in the village.  Matthew the tax collector also dwelt here.
Excavations revealed one residence that stood out from the others.  This house was the object of early Christian attention with 2nd century graffiti and a 4th century house church built above it.  In the 5th century a large octagonal Byzantine church was erected above this, complete with a baptistery.  Pilgrims referred to this as the house of the apostle Peter.
You will see this as you tour Israel with us in February 2013!
There's Still Time to Register For This Trip!
Melodee and I want to invite you to join us on this amazing, once-in-a-lifetime trip. Don't miss this opportunity! God wants to transform your life like He has done to us!
This is a 10-day trip leaving February 18th, 2013. We have made it easy for you to join us with a choice of departures cities across the country: You can choose to leave from Los Angeles, Chicago or New York.
Details and a brochure with all the details are located at this link. We encourage you to get your deposit in while space is still available!
Melodee and I are here to answer all of your questions! You can email us at: pastormatt [@] eaglesinleadership.org
We look forward to touring with you in Israel in February!