Dr. Matthew Smith
You can schedule Dr. Smith to speak to your group,
event or organization by contacting him at
events-at-eaglesinleadership.org
Dr. Smith will be at the following places on the dates listed below:
2019
April 21 – Christ in the Passover Seder, 1:00 – 2.30 pm (full meal) Congregational Christian Church, 2400 Temple Street, Los Angeles, CA 90026
Summary: Christ in the Passover shows the link between the ancient Festival of Redemption and Christ as the Lamb of God—you will never forget it!!
April 28 – Growing Missional Leaders Sunday, 10:30 am, Message title: "Wash Some Feet!" Hillside Southern Baptist Church, 123 North Azusa Avenue, City of Industry, CA 91744
Summary: Mission-driven ministry is about serving others in the yuckiest of situations!
Seminar Summary

1:30 pm, Session One: Local Discipleship – Making Disciples Just Like Jesus Did!
Imagine walking with Jesus and learning discipleship directly from Him! Understanding and imitating Jesus is both practical and effective when it comes to discipleship, as Dr. Matthew Lee Smith, Executive Director of Eagles In Leadership, shows us how to imitate the example Jesus left for us to follow!
2:45 pm, Session Two: Global Leadership – Servant Leaders Who Reach Your World For Christ!
In this session, you will learn what Jesus' intentions actually were for you and I, the local Church, as Dr. Smith shares a simple roadmap to accomplishing Glocal evangelism and discipleship, starting with your own small group, just like He did!
June 1 – Armor of God Men's Breakfast, Open Door Worship Center, Inc. Carson Center, 801 E Carson St, Carson, CA 90745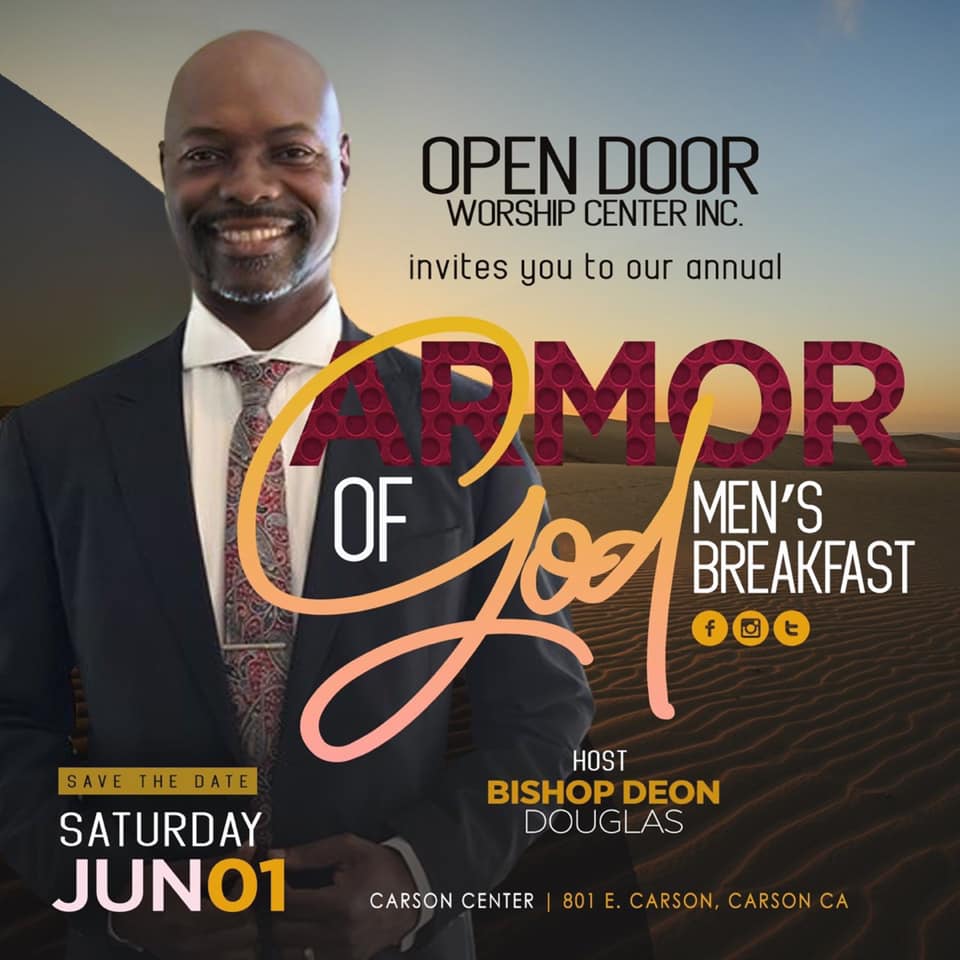 June 24 – August 4, 2019  – Course  #503: Bible Study Methods for Church, Home Bible Studies, and Christian Schools, online, California Pacific School of Theology, https://www.cpsot.org
Summary: The proliferation of independent Bible study groups apart from the institutional church, requires a knowledge of both the content of the inductive Bible study methodology and the knowledge of how to teach sound Bible study methods for those engaged outside of the primary church setting.
August 19 – September 29, 2019 – Course  #504: Evangelism and Discipleship Training, online, California Pacific School of Theology, https://www.cpsot.org
Summary: The student will examine the objectives of the local church.  Specific training and developing of others in areas of evangelism and discipleship will be discussed.
November 11 – 28, 2019 – Philippines Mission Trip, in conjunction with Congregational Christian Church, Los Angeles. This trip is designed to bring help to pastors and leaders in the Philippines in areas of leadership, evangelism, discipleship, and church planting.
December 2 – 11, 2019 – Israel Tour for Eagles In Leadership. For more information, click here.